Nigerians have expressed dismay over the award of excellence received by Senator Elisha Abbo – who was recently embroiled in an assault case.
The Senator, who represents Adamawa North senatorial district, was presented with the award by  members of the inter-community awareness-raising and change initiative in Abuja.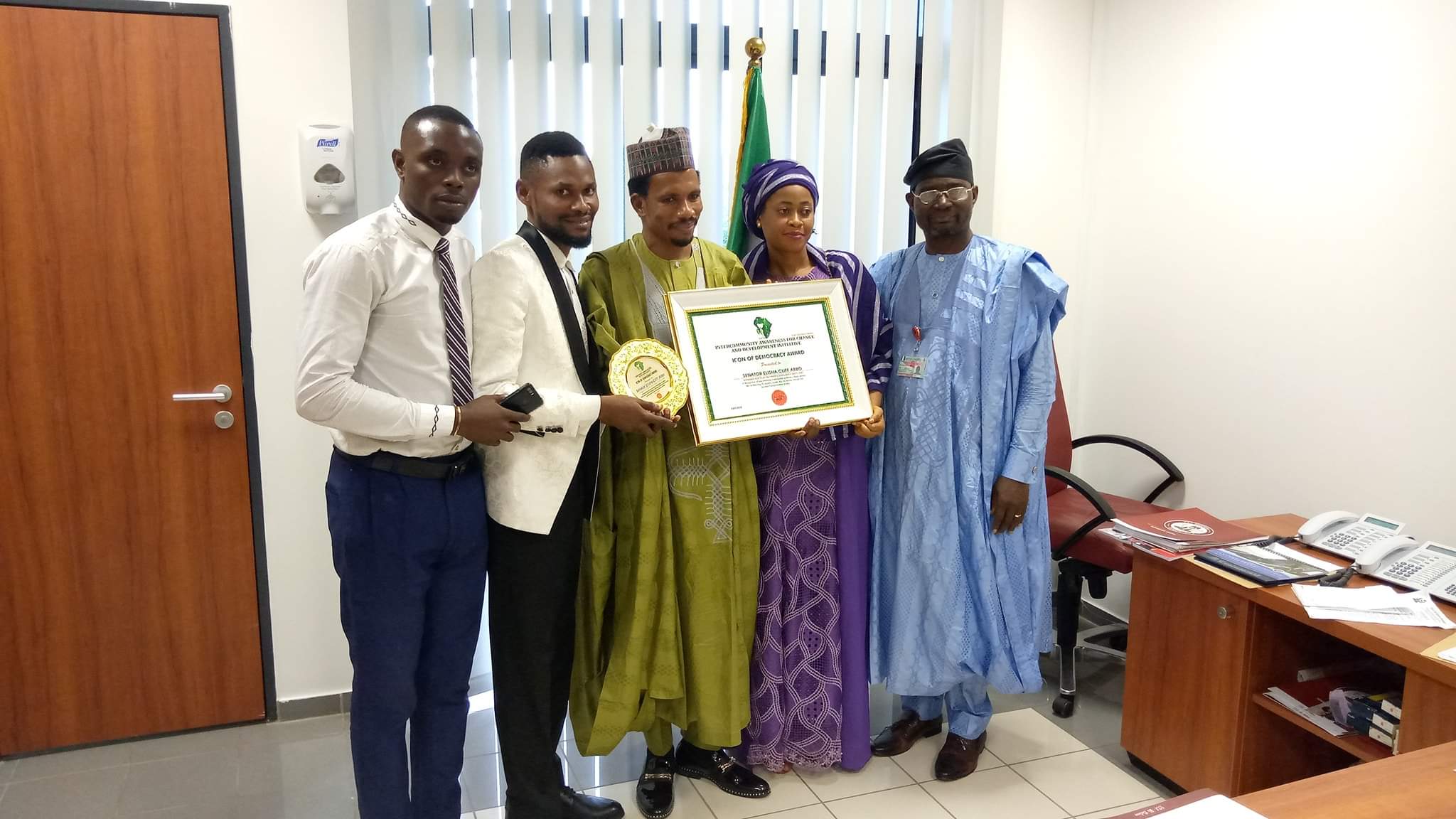 Some weeks ago, The lawmaker went viral with a video showing the senator assaulting  a nursing mother at a sex toy shop in Abuja after being involved in an altercation with the sex shop attendant.
When CCTV footage of the incident emerged, he received backlash from the public and was later subjected to a a senate disciplinary panel.
He has since apologies for the incident.
But reacting, Nigerians took to the social media to express their disappointment at the latest award being given to the senator.
One user notably commented, "Welcome to Nigeria, where you, a public official elected by your constituents, can physically assault a nursing mother in public, get caught on tape and then still go ahead to get awarded for excellence."
Another user expressed, "The awarder and the awardees are senseless!!"
See their more reactions below:
Welcome to Nigeria, where you, a public official elected by your constituents, can physically assault a nursing mother in public, get caught on tape and then still go ahead to get awarded for excellence.

👏👏👏 pic.twitter.com/hjk4OenO0U

— Uncle Demola (@OmoGbajaBiamila) July 29, 2019
The awarder and the awardees are senseless!!😂

— AtilaTheHun (@flagelumdei) July 29, 2019
Is it excellence in slapping harmless women? Excellence in Assault? This is the right time for cashtivists to come at him with all types of awards to attempt to make him look good. Or he can do the cheapest thing and just organise and award it to himself all by himself.

— Mustafa Abubakar (@Sadiqalmustafi) July 29, 2019
Haàa….iwo olorun. Who did this to us in this country?. Pleasr anybody that scream not too young to run and advocate for youths in governance on my TL…ogun go kill the person. I give up.

— Oluwalana T. A. (@official_lant) July 29, 2019
Who are those young thugs beside him😢😢

— IyawoNeymar Jr (@LadySoftXx) July 29, 2019
Excellence in human assault..
They won't see the likes of Uncle Tony Elumelu and give award

— Ozioma Maraizu (@OziomaPM) July 29, 2019
Excellence in human assault..
They won't see the likes of Uncle Tony Elumelu and give award

— Ozioma Maraizu (@OziomaPM) July 29, 2019
Nigeria is a joke taken too far

— WOLF OF ALL STREETS (@ForksEye) July 29, 2019
Yeah like one Gandollar we all know

— Manny Emmanuel (@activistmanny) July 29, 2019
Nigeria is a joke… and in Nigeria we are all cowards

— Tony Chibuzo (@Anthonybuzo) July 29, 2019
With an incompetence president that have a fake Weac result.

— uche osoka (@ucheosoka) July 29, 2019
Òwo lobade nah. Money aswereth and solve all things. This is Nigeria were elected lawmakers uses the law to terrorize electorates. Oshisko.

— Haneera Motors Inc. (@HaneeraInc) July 29, 2019